This was such a nice weekend! I actually did a lot of really fun stuff that just kept my attitude positive all weekend and makes me feel like things are really looking up. On Friday I had my friend Colleen over and we went to the grocery store and liquor store. We ended up making absolutely delicious devils food cup cake with homemade butter cream frosting and some had adorable halloween decorations and some had yummy sprinkles. We watched some of the Office and just chilled.
On Saturday I woke up to a text message from my friend Mariá. She was like "meet me at the gym in an hour" and I was like hell yes. So for the first time in many many months, I went to work out. I met her and we did an hour workout which went by so fast! We talked a ton and I felt so good afterward. I went home and grabbed the cupcakes to bring to my friend Iris's house . When I made them I knew I couldn't stand the temptation in my house, so I knew I could bring them to her for her 3 kids because, well, kids <3 href="http://www.kids-cooking-activities.com/images/pumpkinpiesquare.jpg">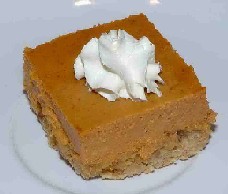 Sunday I went with my mom, stepdad, aunt, lil cousin, and gramma to this Italian fest. I had a great time! The cousin is adorable and I love seeing my aunt. She is one of those cool family members ya know? The kind you actually want to hang out with. My gramma is awesome and funny and I love my mom to death. My stepdad, is, I don't know what the word would be but basically picture me rolling my eyes alot and you get the gist of how I feel. So we went and had amazing pumpkin squares. So amazing it's ridiculous. Afterwards my mom and stepdad helped me move a desk I had at my gramma's to my apt and some more books. The amount I have is ridiculous....and by that I mean an awesomely large amount. I am def looking forward to an Ikea trip with Jenn cause some bookshelves are needed.
Talking with E is just....it has become not at all fun. Not even for a second. It's just an annoyance for both of us. Sigh. I really wouldn't even bother but he is basically family and there's the whole Bella thing so, what can I do.
Actually, besides all the yay yay awesome woohoo positive stuff, there is something that totally sucks. I can't fall asleep.
Absolutely cannot.
I feel tired but as soon as I get in bed, nothing. Tossing and turning. I make the room supercold (best way to sleep), I listen to music, I read, I try to go back to the sofa and watch tv, nothing works. From the past, I know this is means I am having some anxiety issues. So I need to figure out what's up with me and try to relax. I think alot of it is just money stress and Tal being gone and not talking to him. I need to just clear out anything I am procrastinating (i am looking at you art take home test! why can't i sit down and finish you?which makes me not want to go to class until I turn it in. Sigh.)
I made an online dating profile last week but I have no interest in checking it. At this point, I don't think any dating is in my future until I really take care of my goals. I am excited to work out and finish this semester and spend some time single. B is telling me that it would be good and she is right. So it's time for enjoying single life and maintaining friendships and enjoying a new roomie and staying away from carbs and for reading even more and enjoying my family.
Also. I love the whole swiffer commercial with the broom/mop sending the lady flowers or being in the jacuzzi with the background being "baby come back"